Cheechoo project
With gravity gold recovery rates ranging from 70% to 76%, Cheechoo is a world-class potential project that represents the most promising gold discovery in Sirios's history. It is one of the only projects currently in the resource estimation phase in Quebec.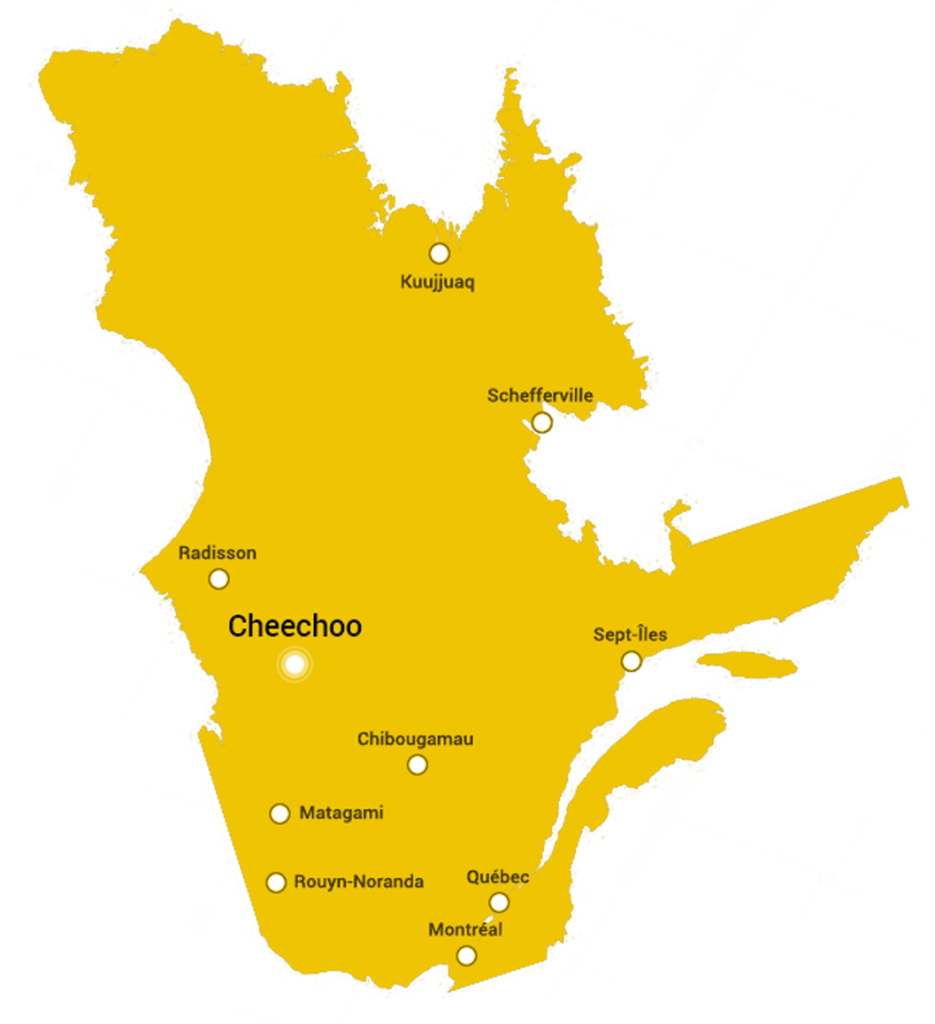 Discovered in 2010 and composed of 145 claims, since its prospecting results yielded numerous grab samples assaying between 0.1 and 2.6 g/t Au.
| | | | |
| --- | --- | --- | --- |
| Target(s): | Gold | Number of claims: | 145 |
| Ownership: | 100% Sirios | Approx. area: | 73 km2 |
Summary
The project in brief
242 NQ diamond drilling for 62,000 m
3 diamond drill holes PQ for 450 m
3,000 m of channelling
70-76% gravimetric recovery
Large low-grade gold envelope (between 0.3 g/t and 0.8 g/t)
867.1 g/t over 0.5 m
41.0 g/t over 8.0 m
Location
Located in the Eeyou Istchee James Bay region of Quebec, the Cheechoo property covers an area of 75 km² within two non-contiguous claim blocks. The main block of 121 claims is located within NTS sheet 33B12, adjacent to the Eleonore Mine property. The second block of 24 claims is located within NTS sheet 33C09, approximately 20 km to the west of the main block of claims. Eleven additional and contiguous claims to this second block have been added in 2015 and labeled Cheechoo-extension.
Geological context
The project area straddles the suture zone between the Opinaca meta-sedimentary subprovince (2700 to 2648 Ma) and the southern segment of the La Grande volcano-plutonic province (2880 Ma). It is composed of both granitoids typical of the La Grande sub-province and metatexite typical of the Opinaca sub-province. The geology of the property consists of tonalite, meta-wacke, paragneiss, granite and pegmatite. The gold mineralization is primarily hosted in a tonalite that is silicified and albite rich, with the presence of moderate to strong parallel quartz veining (centimetric veins or veinlets). The host rocks contain a very low sulfide content (<1%, pyrrhotite-arsenopyrite-pyrite) along with variable amounts of amphibole, biotite, chlorite, diopside, tourmaline and scheelite. A preliminary study of thin sections has shown that most of the gold occurs as free coarse grains outside the sulfide minerals. The above characteristics are typical of Reduced Intrusion Related Gold Systems. For more information, please consult the scientific article published by Geological Survey of Canada in 2018 on Cheechoo.
History
Mining claims
The Cheechoo property is fully owned by Sirios and consists of 145 claims covering 75 km² divided in two non-contiguous blocks. The mining claims were acquired by Sirios in 2004, even before the first drilling of Virginia Gold Mines began, that led to the discovery of the Eleonore gold mine.
In 2005, Sirios acquired thousands of claims in the area immediately east and southeast of what is now owned by Newmont Goldcorp's Eleonore mine. In the same year, Golden Valley signed an option agreement with Sirios to acquire 60% interest in the Cheechoo and Sharks projects (later merged as Cheechoo) totaling close to 600 claims.
In 2009, Golden Valley owned 60% of Cheechoo after completing $ 4M work on the property. Sirios reclaimed 100% of the property in June 2016 following the completion of $ 5M in exploration work and the issuance of 4,148,374 common shares to Golden Valley on the terms agreed in a second agreement signed in 2012.
Golden Valley will retain gold royalties ranging from 2.5% to 4% net return based on gold price and 4% net return for all other mineral products from the Cheechoo project. The royalty is 2.5% if the price of an ounce of gold is less than $ 1,200 (CAD); 3% if the price is between $ 1,200 and $ 2,400; 3.5% if the price is between $ 2,400 and $ 3,000 and 4% if the ounce of gold trades at more than $ 3,000.
Exploration works
The first gold showings were discovered during a detailed prospection program by Sirios in 2010. These showings were discovered in an area located upstream of a large gold anomaly in soils delineated on the neighboring property to the south. Numerous samples of granitic rocks (tonalite) taken from outcrops or angular erratic blocks yielded up to 2.6 g/t Au.
The first drilling program undertaken by Sirios on the property took place in late 2012. In the summer of 2018, 195 NQ-rated and three PQ-rated holes had been completed on the property for a cumulative total of more than 50,000 meters. Prospecting, detailed geological mapping and channel sampling were conducted at several locations, including the Main Stripping area, Trench 2-2, 6-9, November and Dyke Mafic. On the main stripping area, nearly 2,000 meters of channels were sampled and assayed in 2016 and 2017.
Current programs
Metallurgical tests
The second phase of the metallurgical tests is underway. A significant volume (5.5 tons) of drill core samples (30+3 from Phase I) from the Cheechoo gold property is currently undertaking treatment at COREM's pilot plant in Quebec city for a series of geostatistical and metallurgical tests.
The sample material comes from three PQ calibre drill holes completed during the last drilling campaign on Cheechoo, Eeyou Istchee, James Bay, Quebec. These three drill holes were selected to represent the high and low-grade gold mineralization found in the Main area. The tests conducted by COREM could bring answers to many questions such as:
Evaluating the variability of gold grades for the three twin drill holes.
Evaluating the variability of gold grades between the standard drill core sampling protocol with larger composites samples in the same drill hole.
Characterizing the gold nugget effect
Results are expected before the end of the year of 2019.
For more details, see the 2018-10-05 news release.
Previous work and results
The first gold showings on the Cheechoo property were discovered during a prospecting program by Sirios in 2010. These showings were discovered in an area located up ice of a large gold anomaly in soils delineated on the neighboring Eleonore South property currently owned by Newmont Goldcorp, Eastmain Resources and Azimut Exploration. Numerous samples of granitic rocks (tonalite) taken from outcrops and angular erratic boulders assayed up to 2.6 g/t Au. The property was drilled by Sirios for the first time at the end of 2012.
As of november 2019, the following fieldwork had been completed on the property:
242 NQ-size and 3 PQ-size drill holes totaling 62,189 metres.
The winter 2019 campaign was finished in March 2019 with 47 drill holes (#199 to 245) and 11,322 metres drilled. All assays results of the winter campaign 2019 have been published.
Drill holes #141 to 198 (58 holes, DDH 2018 zoom-in, DDH 2018 zoom-out) were completed in 2018 for a total of 15,720 metres. All drill holes were of NQ calibre* except three drill holes, #195, 197, 198 that were of PQ calibre*. The systematic coverage of the central gold area measuring approximately 500 metres by 500 metres was completed at a drill spacing of 50 metres. In addition, a downhole logging survey was completed on over thirty drill holes, bringing the total of sampled holes to 57.
*The diameter of a PQ caliber drill core is 8.5 cm while the NQ caliber one is 4.76 cm.
From 2012 to 2017, prospecting, trenching, detailed geological mapping and channel sampling in

several areas

, including Main Stripping Area, Trench

2-2

, 6-9, November and

Dyke Mafic

. On the Main Stripping Area, nearly 2,000 meters of channels were sampled and assayed in 2016 and 2017.
Preliminary metallurgical tests (2015)
Downhole logging surveys conducted in 23 holes totaling 7,500 meters (2016-17).
Ground magnetometer and induced polarization surveys (2012).
Detailed helicopter-borne magnetometer surveys with  flight line spacings of 50 m (2014) and 25 m (2017) .
Soil (humus) and till sampling surveys (2010, 2015, 2016-2017).
Summary of Results
Low-Grade Gold Envelope
The work done to date in the main drilled area gives an idea of the scale of the mineralized system, extending for more than 1,400 m along the tonalite/meta-sediments contact. (press release February 8, 2018). Close to the contact, gold can be found in both the meta-sediments and tonalite. The presence of gold mineralization has also been recognized up to 500 m away from the contact, towards the interior of the intrusion and tested to a depth of more than 650 m below the surface. The recent prospecting work, as well as completed drill holes to the west of the main drilled area indicate the possibility that the low-grade mineralized envelope can be extended to the west towards the Éclipse area and to the north-west towards the Dyke Mafic area.
High-Grade Gold Intervals, Jordi Area
High-grade gold intervals are frequently intersected within the low-grade envelope. However, the geological continuity of these high-grade intervals remain difficult to confirm with the current drill hole spacing of 50 m. However, the mapping of the main stripped area and trenches has allowed us to confirm the geological continuity of the veins or networks of mineralized veinlets (with visible gold), sometimes for more than 80 m. This continuity is generally parallel to the observed mineral foliation.
So far, only the Jordi Zone shows an recognizable geological continuity. It is distinguishable by the systematic presence of a gold bearing pegmatite and quartz-feldspar veins with visible gold. The zone is broadly folded and shows an undulating continuity both laterally and vertically, thus making it difficult to represent the vein in two-dimensional sectional or longitudinal views. The central part of this zone measures 5 to 10 m wide, has a sub-horizontal dip, whereas its up dip and downdip extensions are steeper, as illustrated on the sections. The Jordi Zone is continuous for more than 300 m laterally and for nearly 200 m downdip. Drill holes # 10, 17, 25, 78, 109, 112, 123, 124, 125 all intersected the zone with grades up to 56.2 g/t Au. The zone remains open at depth.
Mineralized Zones at Depth
Intervals of medium to high-grade gold were intersected at depth in the tonalite. This included; drill hole #82 with 7.4 g/t Au over 3.1 m, within a broader zone of 2.0 g/t Au over 16 m at a depth of more than 600 metres and drill hole #98 that intersected 53.8 g/t Au (17.4 g/t Au, cut grade) over 3 m,  including a higher grade section of 159.3 g/t Au over 1.0 m at a depth of more than 400 metres. Gold mineralization was also observed in meta-sedimentary rocks in the deeper drill holes, where drill hole#98 assayed 4.4 g/t Au over 8 m, included within a broader zone of 1.7 g/t Au over 34.9 m at a vertical depth of 505 metres. One hundred meters to the east, drill hole #82E intersected 4.6 g/t Au over 2.5 m, included within a broader zone of 1.1 g/t Au over  24 m at a vertical depth of 491 metres.(ref.: press release May 30, 2017)
Area Éclipse (previously known as the West area)
Drill hole #95, located more than 750 metres west of the main stripped area, intersected a vein corresponding to a similar vein in a boulder, interpreted to be proximal in origin, that assayed up to 113.5 g/t Au. The drill hole intersected an interval of 11.9 g/t Au over 13.5 m, which included a quartz vein with visible gold which assayed 65.1 g/t Au over 2.1 m. Drill hole #99 intersected a zone close to surface, which included 11.2 g/t Au over an interval of 10.6 m. This zone included two 1-meter intervals with visible gold that assayed 63.3 g/t Au and 50.5 g/t Au. The strike extent of the gold bearing vein or veins in this area has not yet confirmed, an "en echelon" configuration is possible. Different from the main drilled area, the Éclipse area includes veins with very high gold grades. These veins are however hosted in a tonalite with a significantly lower background gold content than the low gold grade envelope of the main area. The Éclipse area represents the northern continuity of the Moni showing identified on the neighboring Éléonore Sud property of Goldcorp, Eastmain and Azimut.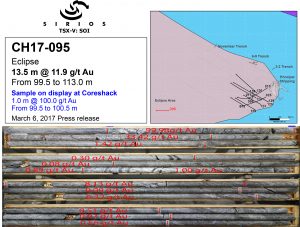 Area of drill holes #47 and 48 (drill holes #63, 64, 66, 68) and of till anomaly (drill holes #69, 71, 73)
Seven exploration drill holes were undertaken in the areas of drill holes #47-48, that each yielded intervals grading between 5 and 10 g/t Au over 1 m, and a gold bearing till anomaly defined in 2015 located 1.5 km and 3 km north-west of the main stripped area. In the first area, assay results up to 3.4 g/t Au over 1.1 m and 1.9 g/t Au over 3.3 m were obtained in drill holes #63 and #64 respectively. In the area of the second till anomaly, the three drill holes did not identify the source of the gold, but drill hole #73 intersected anomalous gold, including 0.8 g/t Au over 5.4 m. Additional till sampling was done in 2017 to better define the source of this gold anomaly.
Surface channel sampling
On the Main Stripped Area, the cumulative total of channel samples was more than 1,992 linear metres, resulting in a weighted average grade of 0.4 g/t Au. This represents a surface area of approximately 10,000 m². This includes an area of 8,500 m² along the tonalite/meta-sediments with a weighted average of 0.5 g/t Au.
On the 6-9 trench, a surface area of approximately 334 m², a total of 177 linear metres of channels were collected of which 157 metres were within the tonalite. Channel samples in the tonalite, representing an area of approximately 298 m², yielded a weighted average of 0.6 g/t Au.
Additional channel samples were collected in the November Trench, previously sampled in 2016. The cumulative total of channel samples in this trench is currently 36.1 metres and yielded 1.4 g/t Au over a horizontal length of 26.1 meters.
Metallurgical tests
The first phase of the metallurgical tests was completed in September 2019. Gold recovery rates up to 97% were obtained, including 88% by gravity. The tests were conducted on three composite samples of PQ drill core, each of approximately 130 kg.
Gold recovery by gravity and tailing cyanidation
Sample #
Lithology
Head grade(Au g/t)
Gold Recovery (%)
Grade obtained (Au g/t)
Gravity
Tailing Cyanidation
Total
9
Tonalite
0.56
81.4
15.2
96.6
0.92
12
Pegmatite
3.06
88.0
 9.1
97.1
2.81
26
Meta-greywacke
0.27
56.5
34.5
91.0

0.31
The tonalite, sample #9 represents approximately 70% of the gold mineralization on Cheechoo. Samples # 12 and 26 represent respectively approximately 20% and 5% of the gold mineralization.
Gold recovery by gravity (GRG) tests undertaken in Phase I, were conducted following the standard procedure developed by the late André Laplante, PhD, involving three successive separation steps with re-grinding between each step.
The tests also demonstrated the potential to concentrate the sulfides in the tailings of the gravity process using flotation. Note that there is a very low sulfides content, in the order of less than 0.2%, in the tailings from the treatment of Cheechoo samples.
Cyanidation tests via direct feed, demonstrate a low consumption of reagents, in the range of 0.19 and 0.58 kg/t of NaCN, and 0.56 and 1.09 kg/t of Ca(OH)2.
The whole of each sample was used for the comminution tests. Approximately 30 kg was used for gravity-testing, while 70 kg was used for cyanidation recovery tests at different granulometries, as well as quantitative mineralogy and gold deportment studies. The completed tests allowed the company to determine the granulometry, being P80 75 μm, to be used for the treatment of the 30 additional composite samples that constitute Phase II of the work currently underway at COREM. All thirty-three samples have a total mass of 5.5 tonnes
Discovering gold from prospecting to advanced exploration.
Sirios generates and manages its mining exploration projects by working closely with its partners, fully respecting communities and the environment, as well as utilizing the latest advanced technologies.