Pontax project
This project, covering approximately 45 km², aims to discover the diamond and metal potential in this previously unexplored area, located approximately 350 km north of Matagami.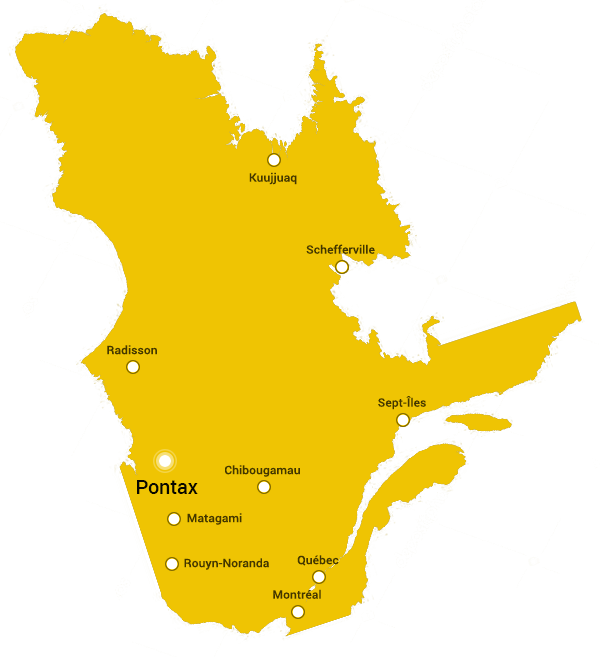 In 2006, Sirios discovered a silver-zinc mineralized zone that assayed several kilograms of silver per tonne at different locations. About fifteen silver and gold potential drilling targets were delineated on the property. A ground access is available through a winter road connecting to the Matagami-Radisson paved road.
| | | | |
| --- | --- | --- | --- |
| Target(s): | Silver, Gold | Number of claims: | 70 |
| Participation: | 100% | Approx. area: | 35 km2 |
At a glance
Vertical depth of the zone is at least 100 m
The observed thickness in drill holes (true width not known) is between 1 and 10 m with an average of 3.2 m
The metals weighed averages are 94 g/t Ag, 0.59 % Zn, 0.18 % Cu, 0.22 g/t Au and 0.11 % Pb
The zone is comprised within altered felsic volcanic rocks over a thickness of several tens of meters and is open at depth and laterally to the south-west
Channel sampling and drilling results include: 821 g/t Ag, 1.31 g/t Au over 4.4 m. incl. 3,343 g/t Ag; 5.4 g/t Au; 2.3 % Pb and 0.6 % Zn over 1.04 m
Fieldwork and Geology
The mineralized zone is exposed on surface over 50 m and, in 2007, was intersected by seven drill holes over a length of 200 m
Till sampling, litho-geochemistry as well as prospecting were done on some targeted areas of the property

In a 2010 prospecting campaign, a new 10 sq km sector was delineated which hosts a gold bearing centrimetric vein (up to 30 cm in width) with a first sample grading 11.6 g/t in gold and 42.7 g/t in silver
Seven additional samples taken on from this vein, which outcrops over a 60-metre length

In gold, between 0.5 g/t and 26.1 g/t Au averaging 9.5 g/t
In silver, and between 0.5 g/t and 87.0 g/t in Ar with an averaging 24.5 g/t

Two outcrops hosting pluri-metric quartz veins, veinlets and quartz stockworks were discovered. In each location, a main pluri-metric quartz vein is bordered by a quartz veinlets stockwork zone over an additional ten metres or so
Fifteen samples from these zones graded between nil and 0.3 g/t in gold and between nil and 3.3 g/t in silver
These outcrops, 230 meters apart, are themselves located 3.7 km away from the first gold bearing vein described above. All these veins seem to be part of the same structural system associated to a fault trending northwesterly
Discovering gold from prospecting to advanced exploration.
Sirios generates and manages its mining exploration projects by working closely with its partners, fully respecting communities and the environment, as well as utilizing the latest advanced technologies.