Solo Property
The Solo property is located less than 20 km southwest of the Sirios' Niska property and approximately 13 km southwest of the recent Patwon discovery on Azimut's Elmer Gold property, where drilling results yielded 3.15 g/t Au over 102.0 m, including 10.1 g/t Au over 20.5 m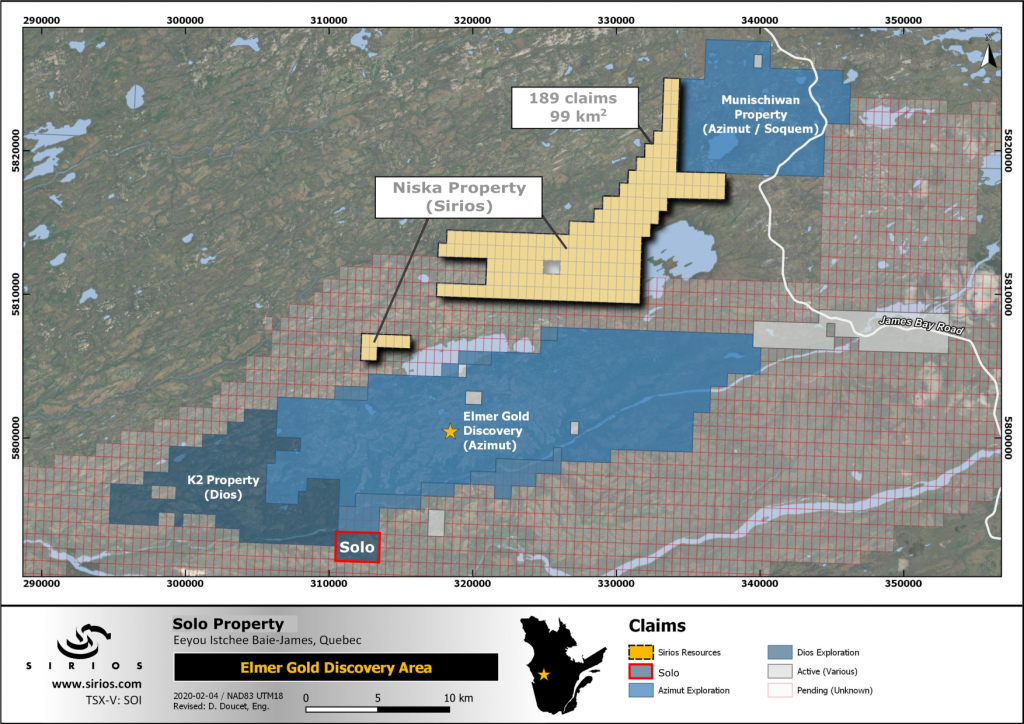 Agreement
Sirios signed an option agreement with Dios Exploration in February 2020. The agreement allows Sirios to obtain a 51% interest in the property over a three-year period, with payments totalling $125,000 and exploration work totalling $600,000. Once the 51% interest is obtained, Sirios will have the option to continue the exploration in a joint venture with Dios on a 51/49 basis or to increase its interest in the property to 90%. To increase its interest Sirios will have to make payments totalling $150,000 over an additional three year period, and complete a total of 20,000 metres of drilling on the property. Sirios will have to complete a minimum of 3,000 metres of drilling in each of these three additional years. Dios could choose to convert its 10% interest into a 2% Net Smelter Return (NSR) royalty, half of which may be purchased by Sirios for 1M$, with a first right of refusal for the remaining NSR.
| | | | |
| --- | --- | --- | --- |
| Target(s): | Gold | Number of claims: | 10 |
| Participation: | 51% SOI | Approx. area: | 5 km2 |
Location and field work
The Solo property is located approximately 50 km west of the 381 km relay station on the James Bay Highway, connecting Matagami to Radisson in Eeyou Istchee James Bay, Quebec. It consists of 10 claims covering 5 km2. It is located less than 20 km southwest of the Sirios' Niska property and approximately 13 km southwest of the recent Patwon discovery on Azimut's Elmer Gold property, where drilling results yielded 3.15 g/t Au over 102.0 m, including 10.1 g/t Au over 20.5 m.
Fieldwork undertaken by former claim holders had located gold in soil anomalies, as well as corresponding geophysical (induced polarization) anomalies in a topographic environment where bedrock exposures are non-existent. However, these targets which can only be properly tested by drilling, have never been verified.
Sirios will undertake an airborne magnetic survey on the Solo claim block in March 2020.
Sirios' efforts have led to the discovery of numerous gold and silver showings, some at very high grades, as well as occurences of other metals.