MONTREAL, QUEBEC – Management of SIRIOS (TSX VENTURE: SOI) is pleased to announce a contract for a series of metallurgical tests was awarded to COREM of Quebec. The tests will be undertaken on 5.5 tons of drill core samples from the Cheechoo gold property.
The sample material comes from three PQ* calibre drill holes completed during the last drilling campaign on Cheechoo, Eeyou Istchee, James Bay, Quebec. Drill holes #195, 197 and 198, totalling 454.5 metres, duplicated a portion of NQ drill holes #112, 108 and 86 as illustrated on the attached figure. These three drill holes were selected to represent the high and low-grade gold mineralization found in the Main area. These holes were drilled and sampled to meet the following objectives:
Obtain a significant amount of material to undertake geostatistical and metallurgical tests.
Evaluate the variability of gold grades for the three twin drill holes.
Evaluate the variability of gold grades between the standard drill core sampling protocol with larger composites samples in the same drill hole.
Characterize the gold nugget effect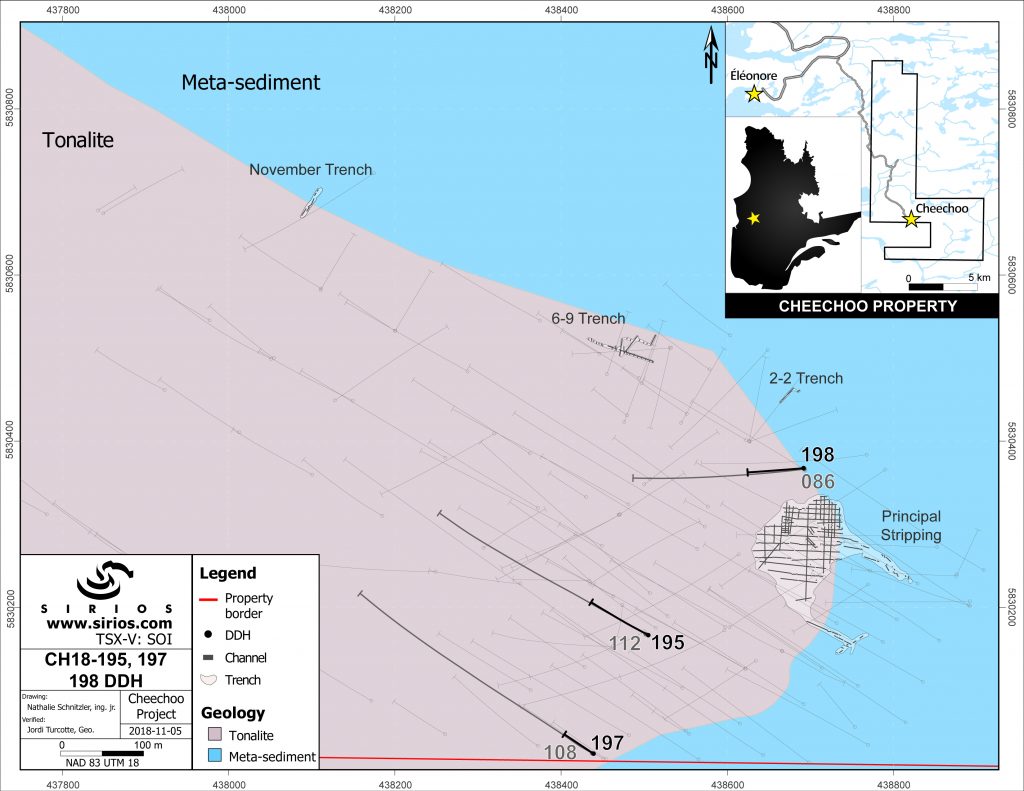 The drill core is being prepared to be sent to COREM laboratories. To achieve objective #2, the PQ drill core was sawed to yield a quantity of rock equivalent to a NQ half-core, which is approximately 2.3 kg per metre, in order to duplicate the standard sample protocol and assay used for NQ core. The remainder of the material of approximately 12.7 kg per metre, will be metallurgically processed for gravimetric gold recovery and cyanidation, such to evaluate objectives #3 and 4.
In addition to the metallurgical tests, comminution test, as well as quantitative mineralogy and gold deportment studies were ordered. The knowledge acquired by these studies are crucial and will allow Sirios to optimize the development of the project and a better understanding of the deposit.
*The diameter of a PQ drill core is 8.5 cm while it is 4.76 for a NQ drill core.
About COREM:
Based in Quebec City, COREM (www.corem.qc.ca) is the largest organization in Canada totally devoted to mineral processing R/D. Recognized as a world-class organization, COREM provides a wide range of mineral processing and analytical services to companies that explore and develop ore bodies and transform or recycle mineral substances. Its highly qualified staff of 145 employees is able to carry out the most complex research projects, complete flow sheet development, pilot testing and ore characterisation for its members and all mining companies worldwide.
Neither the TSX Venture Exchange nor its Regulation Services Provider (as that term is defined in the policies of the TSX Venture Exchange) accepts responsibility for the adequacy or accuracy of this release
-30-