MONTREAL, QUEBEC– Management of SIRIOS (TSX VENTURE: SOI) is pleased to announce assay results of the last three drill holes of the 2018 campaign, totaling 801 metres, undertaken on the Cheechoo gold property.
Dominique Doucet, President of the company, states: "Drill holes completed this year produced highly satisfactory results. They will allow the company, by mid 2019, to produce a maiden gold resources estimate as well as significant metallurgical tests. I would like to thank our remarkable exploration team for the quantity and the quality of work undertaken at Cheechoo."
Drill holes #190 and 196 demonstrate the vertical continuity close to surface of the gold mineralization intersected in drill holes #91, 122 and 132 within the tonalite close to the contact with meta-sediments.
The extension of drill hole #33 (33E) crossed a zone of intense alteration to then intersect multiple good gold intersections, confirming like the grade of adjacent drill holes, that the mineralization continues on the other side of the alteration zone. Significant results are indicated in the table below.
Drill holes #CH18-
From
To
Length
Au (g/t)
033E
119.0
121.8
2.8
9.2
136.0
221.4
85.4
0.8
incl. 136.0
154.0
18.0
1.1
incl. 149.2
150.0
0.8
11.6
incl. 162.5
193.9
31.4
0.9
incl. 200.5
221.4
20.9
0.8
241.1
286.5
45.4
0.7
190
8.2
161.7
153.5
0.6
incl. 17.5
32.5
15.0
0.9
incl. 64.5
96.5
32.0
1.2
incl. 104.0
161.7
57.7
0.5
196
21.0
22.5
1.5
9.3
30.3
37.5
7.2
4.2
incl. 36.0
37.5
1.5
17.4
112.6
178.5
65.9
1.3
incl. 112.6
153.0
40.4
1.7
incl. 123.0
126.0
3.0
18.6
incl. 160.5
178.5
18.0
1.0
 * Interval along the hole, True width unknown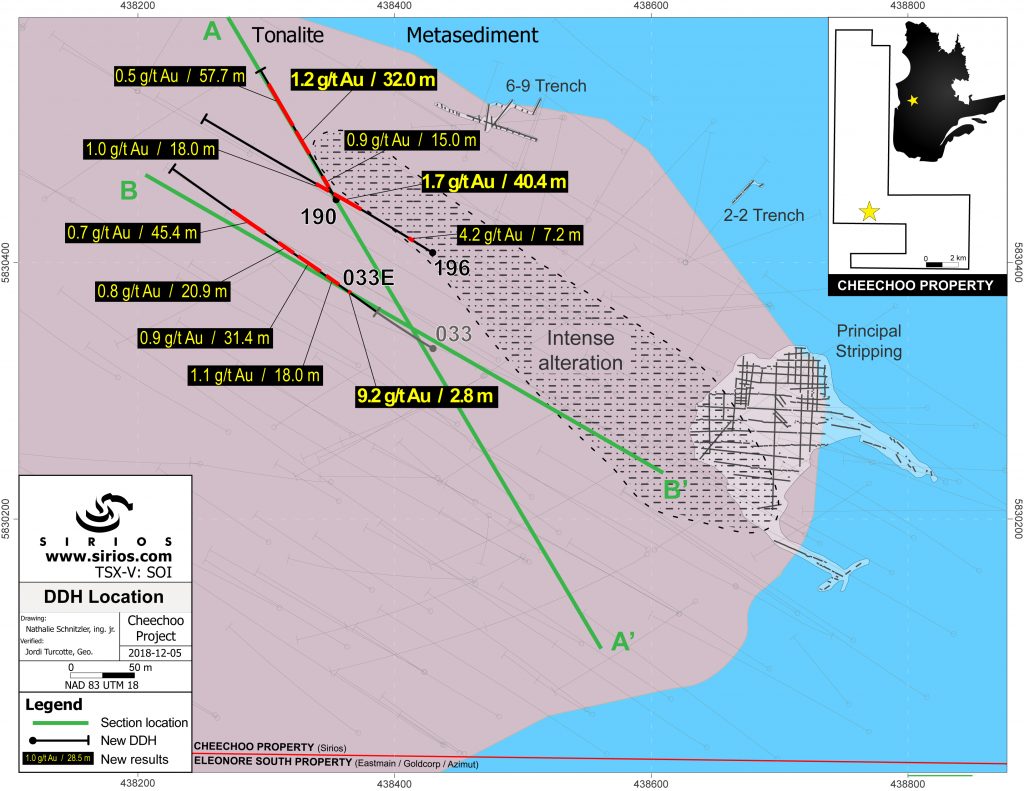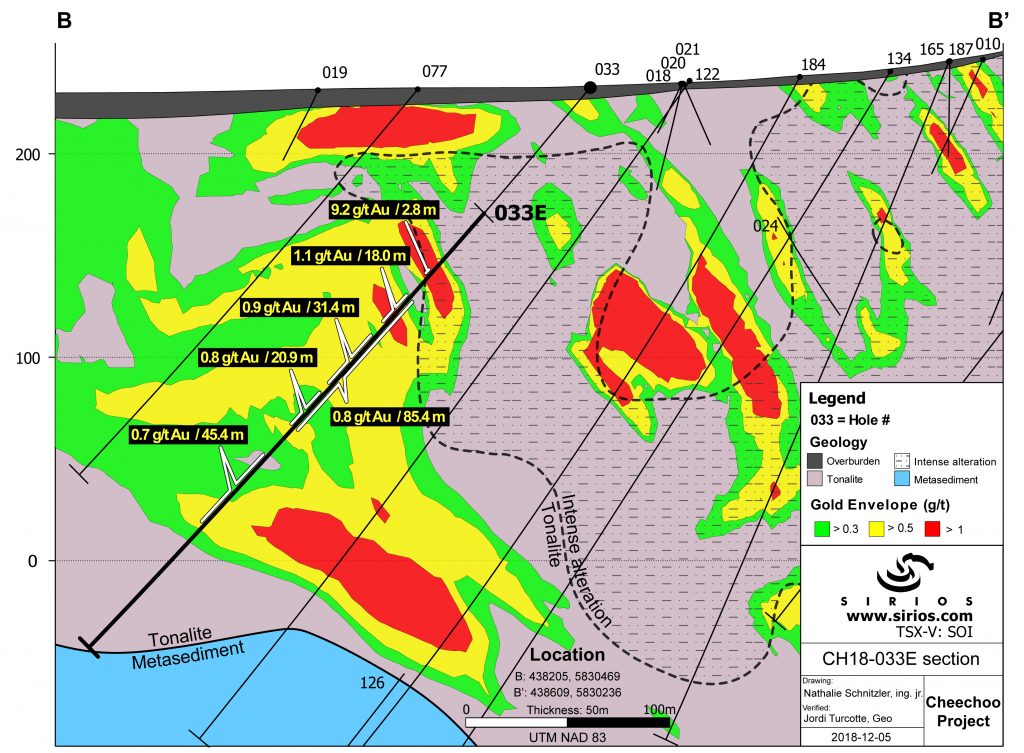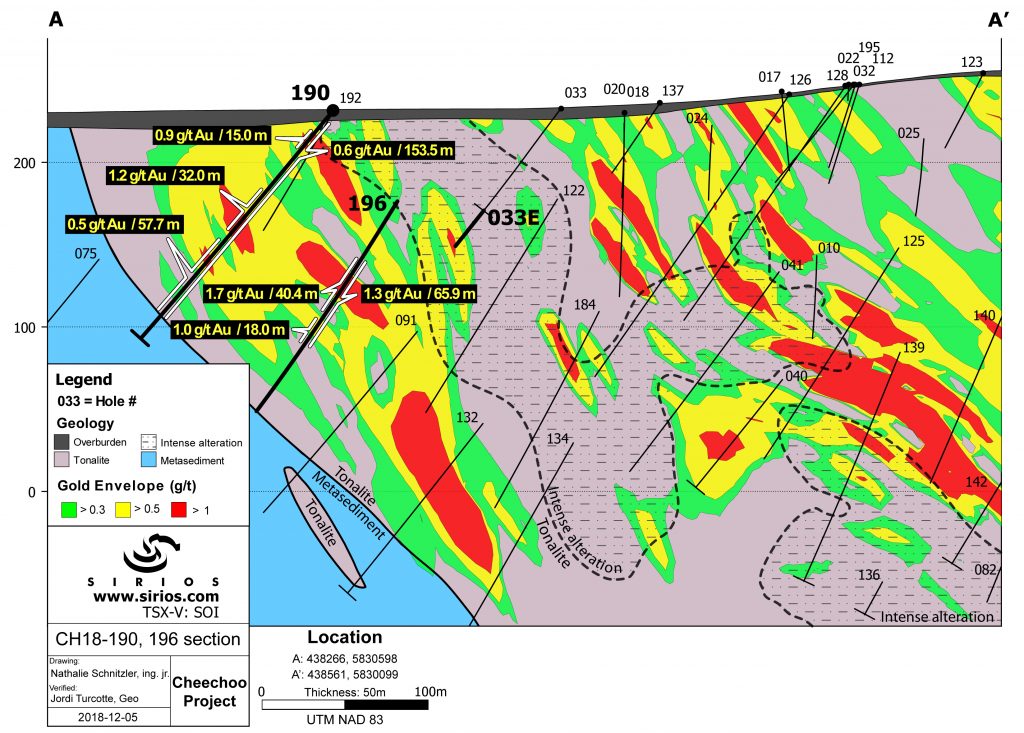 The last drill holes successfully completed the 2018 program including the 50 m-drill hole grid pattern of the Main Area, where the current dimensions are approximately 500 m by 500 m. Based on the positive results of this drilling campaign, the mineralization remains open at depth and laterally towards the west and north-west.
A table of collar coordinates is available at the following link:
http://www.sirios.com/bd-coordinates-drilled-20181205/
Fifty-five NQ drill holes and three PQ drill holes were completed in 2018 totaling 15,720 metres, bringing the cumulative total on the property to 198 drill holes for 50,743 metres.
Sirios' 100% owned Cheechoo property is located in the Eeyou Istchee James Bay region of Quebec, approximately 800 km north of Montreal, 200 km east of Wemindji and less than 10 km from Goldcorp's Éléonore gold mine.
Assay quality control
All NQ drill core was described by Sirios personnel at the Cheechoo exploration camp. The drill core was then sent to Rouyn-Noranda to be sawed in half, with one half sent to a commercial laboratory for assaying and other half kept for future reference. A strict QA/QC program was followed by integrating blanks and certified reference standards to the core sample sequence. The samples were assayed for gold by fire assay with an atomic absorption finish by Actlabs in Ste-Germaine-Boulé. Samples assaying greater than 2 g/t Au as well as drill core samples with visible gold were assayed by fire assay with metallic sieve based on a 1 kg sample.
Jordi Turcotte, MSc., Geo., and Nicole Gauthier, MSc., Geo, Qualified Persons pursuant to National Instrument 43-101, have prepared and verified the technical information of this press release, as well as reviewing the final text.