Aquilon project
The first major gold discovery for Sirios, the Aquilon project includes 104 claims, covering approximately 50 km², located ten kilometers south of the LA-1 hydroelectric complex at James Bay. Currently at the drilling stage, the project is accessible at any time of the year.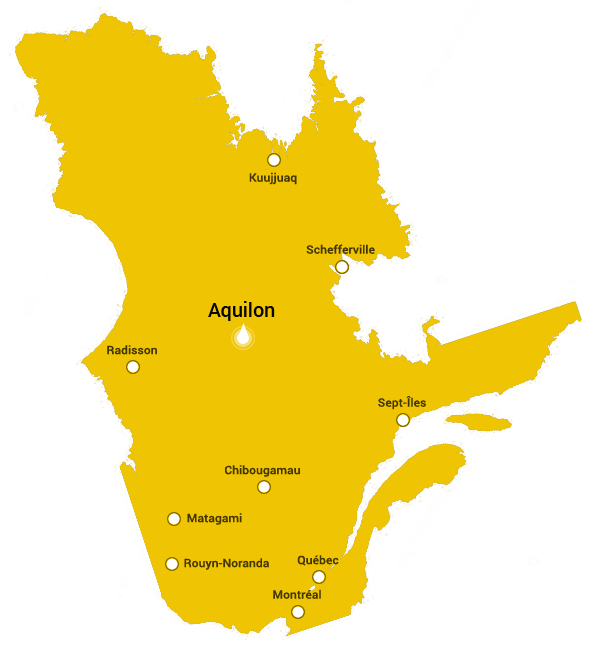 A drilling campaign has confirmed the very high grade of gold mineralization.
| | | | |
| --- | --- | --- | --- |
| Target(s): | Gold | Number of claims: | 140 |
| Participation: | 100% Sirios | Approx. area: | 68 km2 |
Best results
834.4 g/T Au over 1.71 metres (m) (Moman Vein)
including 3,527.4 g/T Au over 0.40 m;
116.48 g/T Au over 2.25 m (Moman Vein);
425.33g/T Au over 0.60 m (Moman Vein);
133.67 g/T Au over 0.82 m (Fleur de Lys Vein); and
26.70 g/T Au over 0.40 m (Muscovite Vein).
At a glance
Gold property of 140 claims
Covers approximately 70 km²
Located ten kilometers south of the LA-1 hydroelectric complex in James Bay
Underlain by parts of a folded, weakly dipping greenstone-belt, containing a felsic volcanic center and cut by strong NE structures
An outfitter with a landing strip is situated less than 40 minutes from the property by an all-weather road leading to LA-1 dam
Fieldwork and Geology
In 2010, Sirios completed a 1,926-metre surface drilling program of 35 short vertical drill holes targeting the Lingo (10), Moman (14), Fleur De Lys (11) and Muscovite showings
Previous drill results which returned over 1.0 ounce per ton (34.29 g/t), include:

3 230,9 g/t Au over 0.80 m (94 on/ton over 2.62 feet)
incl. 12,906.5 g/t Au over 0.20 m (376 on/ton over 0.65 feet

A compilation of previous results is ongoing
In August 2019, Sirios added an additional 36 claims to the property and initiated prospecting, detailed mapping and lithogeochemical sampling on the property. This fieldwork was undertaken on areas highlighted by geological and structural modelling and reinterpretation completed by Sirios' geologists.
Agreement
In 2016, Sirios acquired the 50% interest of Golden Tag for $820,000, allocated as follows: $250,000 in cash and $570,000 by the issuance of 1,000,000 shares at a deemed price of $0.57 per share. Aquilon property and Soquem Inc. will retain a 1% NSR royalty, half of which is redeemable for $500,000. Since then, Sirios owns wholly the property.
Discovering gold from prospecting to advanced exploration.
Sirios generates and manages its mining exploration projects by working closely with its partners, fully respecting communities and the environment, as well as utilizing the latest advanced technologies.