MONTREAL, QUEBEC– Management of SIRIOS (TSX-V: SOI) is pleased to announce assays results from the extension of two drill holes on the Cheechoo gold property. The extension of drill hole #125 (125E) intersected a zone of veining and quartz-feldspar breccias, which assayed 26.8 g/t Au over 6.8 m, including an interval of 69.8 g/t Au over 2.5 m. This intersection results in a 40-meter extension below the vein of drill hole #112, which assayed 41.0 g/t Au over 8.0 m (press release of February 14, 2018). It is oriented north-northwest, sub-vertically dipping, which is consistent with the structural data obtained from the borehole logging survey in drill hole #112. The true width of the intersection is estimated at 3.6 metres. Drill hole #125E was completed to a depth of 451 m in auriferous tonalite material.
SIGNIFICANT ASSAY RESULTS OF DRILL HOLE CH-18-125E
(Extension of drill hole #125 from 352 m to 451 m)
From
To
Width*
Au (g/t)
 
Au (g/t)
**
367.3
368.4
1.1
11.5
390.5
436.4
45.9
0.6
incl. 414.3
415.1
0.8
10.8
436.4
443.2
6.8
26.8
9.4
incl. 440.7
443.2
2.5
69.8
25.3
incl. 441.5
442.3
0.8
201.5
442.3
451
7.8
0.6
*Interval along the hole, True width unknown
**Grade cut at 50 g/t m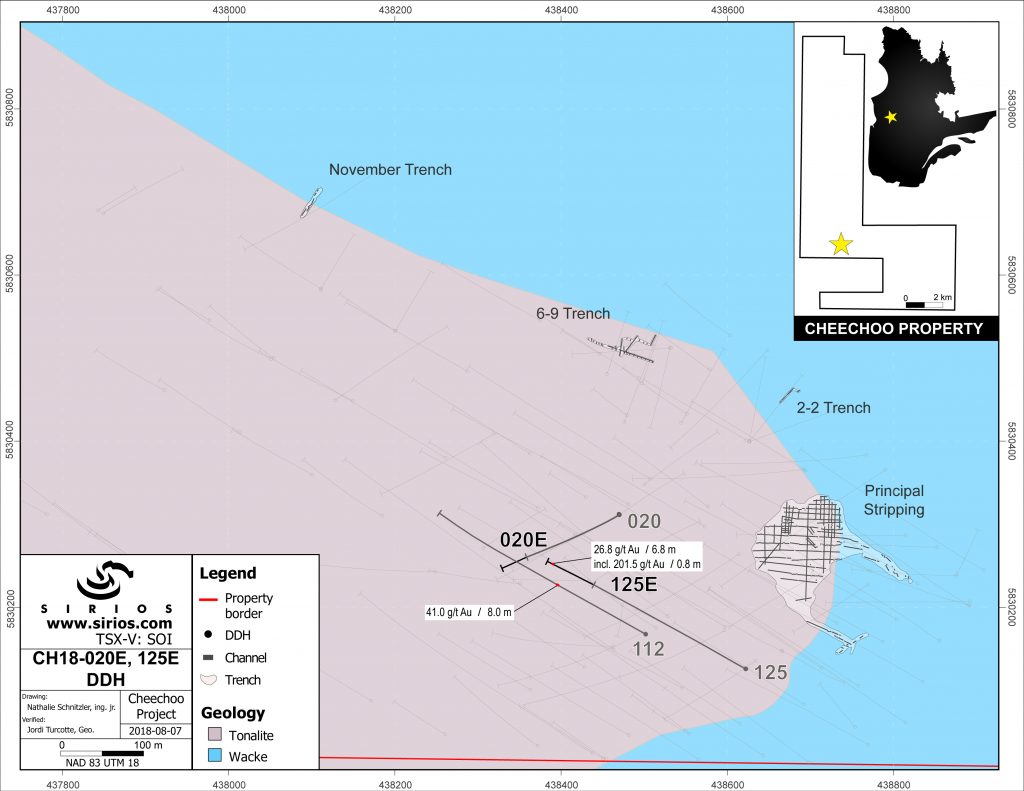 The extension of drill hole #20 (20E) intersected two decimetric veins (quartz-feldspar) up-dip and similar to drill hole #112. Although, they did not yield significant gold grades, the mineralized zone remains open in all directions.
Results of 20 additional drill holes recently received are currently being interpreted and results will be released shortly. Assay results of the remaining 28 drill holes, out of 58 completed in 2018 for a total of 15,720 metres, are still pending. A table of collar coordinates is available at the following link:
http://www.sirios.com/bd-coordinates-drilled-20180808/
Sirios's 100% owned Cheechoo property is located at Eeyou Istchee James Bay, Quebec, approximately 800 km north of Montreal, 200 km east of Wemindji and less than 10 km from Goldcorp's Éléonore gold mine.
Assay quality control
All NQ drill core was described by Sirios personnel at the Cheechoo exploration camp. The drill core was then sent to Rouyn-Noranda to be sawed in half, with one half sent to a commercial laboratory for assaying and other half retained for future reference. A strict QA/QC program was followed by integrating blanks and certified reference standards to the core sample sequence. The samples were assayed for gold by fire assay with an atomic absorption finish by Actlabs in Ste-Germaine-Boulé. Samples assaying more than 2 g/t, as well as drill core samples with visible gold, were assayed by fire assay with metallic sieve based on a 1 kg sample.
Jordi Turcotte, MSc., Geo., and Nicole Gauthier, MSc., Geo, Qualified Persons pursuant to National Instrument 43-101, have prepared and verified the technical information of this press release, as well as reviewing the final text.
Neither the TSX Venture Exchange nor its Regulation Services Provider (as that term is defined in the policies of the TSX Venture Exchange) accepts responsibility for the adequacy or accuracy of this release